The Route
Elements


Cross-Border Bus Terminus
Jordan Station


505 Canton Road
Sands Macao


(Pearl Entrance)
Venetian Macao


(Hotel Main Lobby)
Parisian Macao


(Bus Depot)
Elements


Cross-Border Bus Terminus
Jordan Station


505 Canton Road
Sands Macao


(Pearl Entrance)
Venetian Macao


(Hotel Main Lobby)
Parisian Macao


(Bus Depot)
Elements

Cross-Border Bus Terminus

Hong Kong Jordan

505 Canton Road

Sands Macao

(Pearl Entrance)

Venetian Macao

(Hotel Main Lobby)

Parisian Macao

(Bus Depot)
Parisian Macao

(Bus Depot)

Venetian Macao

(Hotel Main Lobby)

Sands Macao

(Pearl Entrance)

Hong Kong Jordan

505 Canton Road

Elements

Cross-Border Bus Terminus
Passenger Notice:
Please bring all your luggage and personal belongings through customs clearance.
Our waiting time in customs is within 20 minutes. Overdue will be at passenger's own arrangement
Passenger Notice:
Please bring all your luggage and personal belongings through customs clearance.
Our waiting time in customs is within 20 minutes. Overdue will be at passenger's own arrangement
Baggage Regulations
Each traveller is allowed to carry only one piece of luggage. The dimention should not exceed 56cm x 36cm x 22cm.
According to the government regulations of People Republic of China, Hong Kong Special Administrative Region and Região Administrativa Especial de Macau, One Bus Hong Kong Macau Limited has the absolute authority and its sole discretion to refuse permission to board to any passenger found with any explosive/ dangerous/ flammable/ toxic/ corrosive items, as well as any prohibition of import and export goods by the Customs of the Governments.
Passengers must take care of their own baggage and personal belongings when they stop or get on or off the bus. The passengers are responsible for all the risks of their own baggage and personal belongings. Any loss or damage, "One Bus Hong Kong Macau Limited" will not be responsible.
Ticketing
Guests can purchase either one-way or round-trip tickets, with no restrictions on westbound or eastbound (one way - Hong Kong to Macau or Macau to Hong Kong) (round trip – Hong Kong and Macau)
We offer various payment methods.








In accordance with the insurance policy of HZM district, all children (including infant) must purchase tickets to get on board.
Fares
Monday – Friday
Saturday, Sunday & Public Holidays
Shift (One way)
Before 18:00
On or after 18:00
Full Day
Adult / Aged 3 and above
HK$160
HK$180
HK$180
Child

(aged under 3)

HK$60
HK$80
HK$80
Before 18:00
Monday – Friday
On or after 18:00
Monday – Friday
Full Day
Saturday, Sunday & Public Holidays
Before 18:00
Monday – Friday
On or after 18:00
Monday – Friday
Full Day
Saturday, Sunday & Public Holidays
Purchase redemption tickets in official website

Show redemption QR Code or No. at counters

Collect paper tickets
Hong Kong Authorized Resellers
Jordan

Shop B, G/F, The Lodge, 535 Canton Road, Jordan, Kowloon

Business hours: Monday to Sunday 08:00 to 19:00

Elements

1/F, Bus Terminus, Fire Zone, Elements, 1 Austin Road West, Tsim Sha Tsui

Business hours: Monday to Sunday 06:00 to 21:15
Macau Authorized Resellers
The Venetian Macao

Concierge (Main Lobby)

Business hours: 09:00 to 22:00

CotaiTravel (Shop 612, Level 3)

Business hours: 08:30 to 21:00

The Parisian Macao

Hotel South Lobby Concierge (Level B1)

Business hours: 11:00 to 21:30

CotaiTravel (Shop 107, Level 1)

Business hours: 08:30 to 21:00

Sands Cotai Central

CotaiTravel (Shop 1030, Level 1)

Business hours: 08:30 to 21:00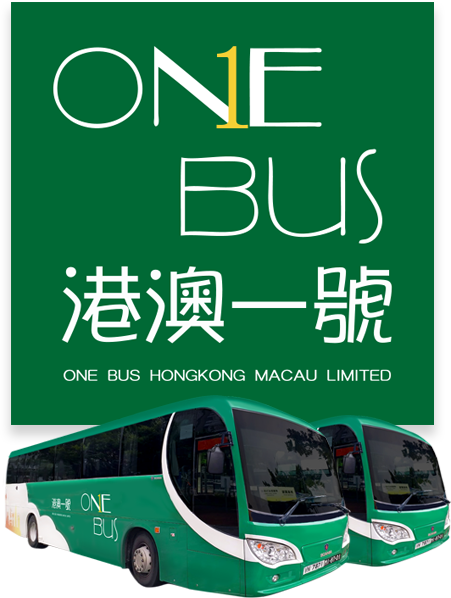 ONE BUS HONG KONG MACAU LIMITED
(hereinafter as "ONE BUS") is a limited liability company by shares incorporated under the laws of Hong Kong Special Administrative Region, China that operates cross-border passenger service between Hong Kong and Macau. "ONE BUS" is organized by a group of industry elites who have been contributed brilliantly for local transportation and tourism industry. Our shareholders include China-Hong Kong Passenger Services Co. Limited, Moving Step Limited, Poly Pride Limited and Harvest World Limited.
"ONE BUS" believes that we now grounded in Kowloon side, will grow fast and stable with flexibility, and to be one of the professional industry leaders to serve our passenger in Hong Kong and Macau. Our routes serve between downtown areas of Hong Kong and Macau, which pass through the new Hong Kong-Zhuhai-Macao Bridge.
In order to demonstrate high quality of cross-border service, we have launched with a team of brand-new EURO 6 luxury single-decker tour buses. The unified color and pattern of our buses represent a clear and refreshing image of "ONE BUS". And every passenger seat is equipped with USB charger and free WIFI connection that will provide substantial need for our passengers.
HONG KONG - ZHUHAI - MACAO BRIDGE
Hong Kong-Zhuhai-Macao Bridge (HZMB) being situated at the waters of Lingdingyang of Pearl River Estuary, is a mega-size sea crossing linking the Hong Kong Special Administrative Region (HKSAR), Zhuhai City of Guangdong Province and Macao Special Administrative Region. The project started on 15th December 2009 and Completed on February 2018.
The HZMB will be the longest bridge-cum-tunnel sea-crossing with dual 3-lane carriageway, which is about 55 km in length The HZMB Main Bridge runs from the artificial island off Gongbei of Zhuhai to the eastern artificial island for the tunnel section just west of the HKSAR boundary. The project includes a 29.6 km dual 3-lane carriageway in the form of bridge-cum-tunnel structure comprising a tunnel of about 6.7 km; and four artificial islands in total;
The construction cost of the HZMB Main Bridge, are contributed by the three places (Hong Kong, Mainland and Macao) which for preliminary design, site investigation, detailed design and construction of the HZMB Main Bridge.
Hong Kong-Zhuhai-Macao Bridge Authority is jointly organized by the governments of Guangdong, Hong Kong Special Administration Region and Macao Special Administration Region, and is mainly responsible for the construction, operation and maintenance and management of the HZMB main body.
After the opening of the Hong Kong-Zhuhai-Macao Bridge, the traffic time between Hong Kong, Zhuhai and Macau will be reduced sharply. The journey time will only take about one hour, and there is no need to bypass Shenzhen and Humen. Hong Kong-Zhuhai will also form a one-hour life circle.
Fleet Configuration

GPS satellite navigation system

Mandatory test on driver's driving assessment

CCTV installed in each Cabin monitoring any unforeseen circumstances

Total Maintenance Scheme enhanced

Daily vehicle travel record

Monitor traffic conditions and provide instant traffic information to drivers

Free WIFI

Free USB charging device
FAQs
1. How to book a ticket?

Reservation can be made on One Bus online booking, Jodan Box Office, Elements Box Office and 6 selling points of Sands Macao. You may find the location details as shown in the ticketing category.

2. Where are the boarding points in Hong Kong and Macau?

In Hong Kong, passengers should be on board in Jordan and Elements. In Macau, there are three boarding points - Sands Macao, The Venetian and The Parisian. Please have a look on the sequence of pick up and drop off points as shown in the Route and Timetable categories.

3. Can I buy different routes of tickets at one of the counters in Hong Kong or Macau?

Yes, all counters in Hong Kong and Macau have no restrictions on selling different routes of tickets. For example, customers can buy tickets departing from Macau at ticketing center in Hong Kong.

4. How can I get on board by online ticketing?

Passengers need to collect paper tickets with their online redemption number or QR code at any selling counters in Hong Kong and Macau. Passengers should check-in with the paper tickets. Boarding simply by presenting the online voucher should not be allowed.

5. If my travelling schedule has changed, can I re-schedule my ticket?

Yes, you should take the ticket to the original ticketing center and apply for reschedule once only. The handling fee is HK$20 per ticket. If you apply on 1 day or more before departure, the schedule can be changed to either earlier or later shift. However, if you apply on departure day, only earlier shift is available for changes. Please be aware that changing the routes is not allowed, e.g. Hong Kong to Macau ticket can not change to Macau to Hong Kong.

6. Is there any specific seat arrangement on board? Can I reserve preferred seat while booking the ticket?

Currently we do not offer advance seat reservation. Passengers can choose their seats on first come, first served basis. Since there are stops through the customs clearance and limited availability of seats, we recommend our passengers to keep their original seats throughout the journey. Please note that every passengers have no rights to reserve any particular seats on board.
1. Do you need to bring your luggage off the coach when you pass the customs?

Passengers are required to bring all their luggage and personal belongings through customs clearance.
1. Typhoon and rainstorm warning arrangement

Regardless in Hong Kong or Macau, if the typhoon signal No. 8 or above, the black rainstorm warning is hoisted on or after 08:30, our services will be suspended until the warning signal is lowered or cancelled. When typhoon signal No. 3 or below, yellow or red rainstorm warning signal is hoisted, all services will remain operate as usual. Passengers should pay attention to the latest news from One Bus or call us for enquiry.

2. Strong wind control measures arrangement

In accordance with the notice from the Hong Kong-Zhuhai-Macao Bridge Authority, we will cooperatively provide relevant services.
1. What if I missed the shuttle bus while I used a long time to clearance in immigration

If individual passenger missed the original shift due to customs clearance, they may request assistance from our staffs. Passengers can take either the next available shift or other transport at their own expense. One Bus will not responsible for any passengers' loss because of the delayed schedule in customs.
Contact Us
ONE BUS HONG KONG MACAU LIMITED
Mon to Fri 10:00-18:00
Sat 10:00-13:00
Room 812, 8/Fl. Hung Hom Commercial Building, 37 Ma Tau Wai Road, Hung Hom, Kowloon